Specializing in High-Stakes Disputes, Business Law, Consumer Protection, IP Law and Other Areas of Civil Litigation
We have extensive experience and expertise representing individuals and businesses in a multitude of civil litigation cases, from small disputes to complex litigation. We are committed to providing high-level and personalized representation in civil litigation cases, aiming to achieve legal excellence and exceptional results for our clients. With each case we take, we work to diligently represent our client's interests and obtain optimal results. No case is too complex or too small for us.
We have expertise in a multitude of commercial law areas, ranging from substantial and complex commercial disputes to simple contract disputes. Our attorneys have experience representing Fortune 500 companies as well as individuals. In all cases, we remain committed to the cost-effective resolution of disputes.
Consumer protection laws protect individuals from false, deceptive, misleading, fraudulent and unconscionable business practices. We are dedicated to helping individual consumers and businesses obtain justice in consumer rights violations cases, in both state and federal courts throughout the country, achieving compensation and all available forms of restitution.
We serve a diverse clientele, ranging from Fortune 500 companies to start-ups, covering all areas of intellectual property, from patents, trademarks, copyrights to trade secrets. Members of our team have advanced technical degrees and industry experience, which allows us to best serve our clients' IP needs.
Excellence,
Commitment &
Winning Results
We operate on a never-ending professional commitment to our clients, whether they are Global Fortune 500 companies, startups or individuals. Our culture of excellence is bolstered by our actions: in the intensity, consistency and rigor with which we approach each case, and in the value we attribute to obtaining the best results for our clients.
At Beverly Hills Trial Attorneys, we remain not only mindful of the privilege we are granted as officers of the court but also of our resulting duties and obligations. Getting the best possible results for our clients is our mission. We thrive to surpass our clients' needs and expectations. We work to serve our clients' best interests by implementing winning strategies and being one step ahead of the other side, with strict adherence to principals of honesty, integrity, respect for the judiciary.
​At bottom, Beverly Hills Trial Attorneys is a litigation boutique with clear aim: winning high-stakes disputes in a variety of areas in civil litigation and ensuring a record of success for our clients.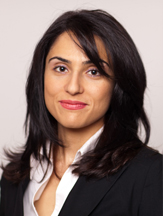 AZAR MOUZARI
Founder/Partner
Azar Mouzari is the founder and principal of Beverly Hills Trial Attorneys. Prior to this, she worked as a litigation attorney at some of the most prestigious, prominent national law firms, including Gibson, Dunn & Crutcher LLP and Irell & Manella LLP, working on litigation cases that resulted in nearly a billion dollars in verdicts and settlements. Mrs. Mouzari has extensive experience both at the trial and appellate levels in a multitude of civil litigation areas, including business litigation, consumer protection law, class action, intellectual property and personal injury.
Mrs. Mouzari received her law degree, summa cum laude, from the University of Ottawa in 2007, where she was the Book Reviews Editor of the Ottawa Law Review. Following graduation, Mrs. Mouzari served as a law clerk to the Honorable Marshall Rothstein of the Supreme Court of Canada.
She received her B.A. in Electrical Engineering, summa cum laude, from the University of Ottawa in 2003. She completed three research terms as a National Science and Engineering Research Council Scholar in the field of satellite communications systems. Mrs. Mouzari's awards include the Faculty of Common Law at the University of Ottawa Gold Medal, National Science and Engineering Undergraduate Award, YMCA-YWCA Women of Distinction Prize and the Canadian Engineering Memorial Foundation Scholarship. During her spare time, she enjoys travel, community involvement and music. She is proficient in French & Farsi.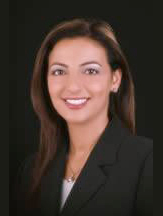 Following an extensive litigation practice at large Los Angeles law firms, Ninette Wassef joined Beverly Hills Trial Attorneys as Special Counsel, with expertise on a wide range of litigation matters, with particular concentrations in the areas of consumer protection, business litigation, antitrust and business tort disputes. Ms. Wassef has over fifteen years of litigation experience in the areas of complex business litigation, consumer class actions, unfair competition, and commercial litigation. With her most recent litigation focus on representation of national banking institutions and creditors in a wide variety of commercial actions (in both prosecution and defense), including contract disputes, secured and unsecured commercial transactions, real estate litigation, SWAP transaction disputes, and business tort claims, Ms. Wassef brings a specialized area of knowledge to the practice.
Ms. Wassef received her J.D. from the Georgetown University Law Center in Washington, D.C. in 2000, where she was a member of the Poverty Law & Policy Journal and the Domestic Violence Law Clinic, and received her B.A. in History from UCLA in 1997.
Ms. Wassef is admitted to the State Bar of California and the United States District Court for the Central and Southern Districts of California, and has handled multiple appellate briefings and oral argument before the Ninth Circuit Court of Appeal.  She also maintains an active pro bono practice. She has drafted various agreements for nonprofit organizations, successfully represented pro bono clients at hearings and helped draft briefs on behalf of nonprofit organizations.  Her extensive history of providing pro bono services includes charitable and community service on behalf of individuals in need, human rights groups, and educational causes.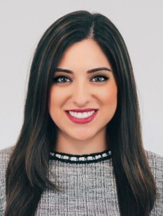 After a number of years working as an insurance defense attorney on a wide range of general litigation matters, Nilofar Nouri joined Beverly Hills Trial Attorneys as an associate, focusing her practice of law to various areas of civil litigation, including business litigation, consumer protection law and class action, in both state and federal courts.
Ms. Nouri was also previously an academic attorney at BARBRI, where she prepared law graduates for the California BAR exam. Ms. Nouri graduated from Pepperdine University School of Law, where she was a member of the Pepperdine Honor Board and Moot Court Board, and obtained a Certificate in Dispute Resolution from the internationally recognized Straus Institute for Dispute Resolution.
During her time at Pepperdine University, she completed a program in International Arbitration, which took place in various European countries and also gained experience in both litigation and transactional law as a law clerk for Lakeshore Entertainment and a Los Angeles based entertainment firm.
During her free time, she enjoys traveling, hiking and playing ping pong. She is fluent in Farsi.

Beverly Hills Trial Attorneys, P.C. has a company-wide commitment to ensuring that Information Technology (IT) is accessible to all people, including those with disabilities. As part of this commitment, our Website has been designed to conform to the requirements to the World Wide Web Consortium (W3C) Web Content Accessibility Guidelines. The Website is regularly tested and monitored for accessibility, including by persons who are blind or visually-impaired who are proficient with screen reader software. The Website is continually tested and certified as accessible by qualified, visually-impaired testers.  In addition, our team is continuously modifying the Website as technology advances. We recognize that there can always be occasions when users experience difficulty accessing the site. If you experience difficulty viewing any material on our website, please do not hesitate to contact us by calling 310-858-5567. Your feedback and ideas are extremely important to us.